Luxury Face, Skin, Hair (Body Oil) 4oz.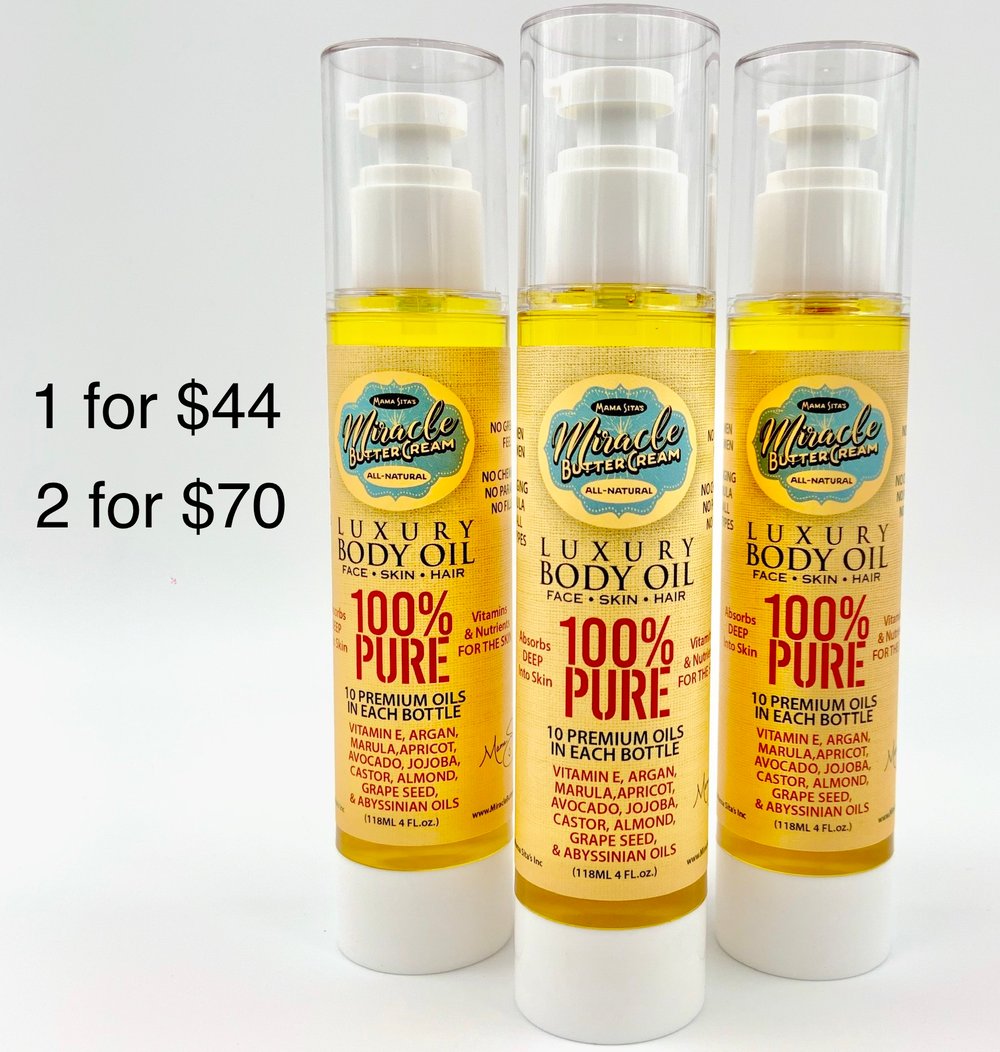 100% Pure Premium Luxury Body Oil for Face, Skin, & Hair.
‼️ PURCHASE 2 & SAVE $18 (Select "2 for $70" in the Options MENU and then indicate the 2 scents in the "NOTES" section at checkout.) ‼️
THERE ARE ABSOLUTELY NO FILLERS IN THIS PURE OIL BLEND! Unlike other brands, our luxe body oil contains NO MINERAL OIL, NO ALCOHOL, NO GLYCERIN, NO CHEMICAL PRESERVATIVES, and NO WATER.
This uniquely exquisite "VITAMIN-RICH" combination of decadent oils are rapidly absorbed into the skin, leaving skin youthful, luminous, and silky smooth.
NO GREASY FEEL!
Light weight moisturizer and hydrator for face, skin, & hair.
Features 10 Exotic LUXURY OILS Imported from Indonesia, Africa, Spain, Israel, & Chile.
INGREDIENTS: Each bottle contains a perfect blend of "100% PURE" Vitamin E, Argan, Marula, Apricot, Avocado, Jojoba, Castor, Grape Seed and Abyssinian Oils.
NEVER ANY CHEMICALS, PARABENS, or FILLERS.
For Men and Women.
SCENT SELECTIONS :
UNSCENTED: Especially recommended for facial use to avoid irritation in eye area. Excellent for promoting eyelash & eyebrow growth!
ROSE WATER- Light, Fresh, & Clean this scent captures the essence of a rose garden in bloom. This modern, floral experience begins with faint notes of green leaves, lemon, and spice with light touches of violet that boost the natural rose essence at the heart, then base notes of honey and sandalwood add an earthy, sweet touch.
GRAPEFRUIT-LEMONADE: Fresh and lightly scented w/ organic cold pressed sweet pink grapefruit, lemongrass, & Lemon oil. The scent is clean and fresh.
AMBER (Soft notes of Pachouli, Sandalwood, & Lemon) A light musk that is a cross between masculine & feminine, meaning that men love it and so do women.
-BLACKCHERRY WOODS- black cherry with a touch of citrus enhance this fragrance. Amber, sugar, and vanilla base notes reinforce the sweetness of this scent, while musk and freesia add a light earthy dimension. (Unisex scent)
CEDAR-WOOD VANILLA: (Highly recommended for MEN) Cedarwood has a delightfully earthy tone and a strong woody base. It's blended with a classic vanilla and a touch of sweetness to create a fragrance that is both warm and sophisticated. Men LOVE this scent and women who like cedar, woody, & vanilla mix also love it.
LAVENDER-BABY- If you love the soothing scent of pure lavender and add a hint of the baby smell. That's what you get with this intoxicating calming scent. It'll put you right to sleep and get you ready to relax. (For mom dad and kids)
PURE LAVENDER- For those who LOVE pure essential oils lavender. Great for soothing relaxation and massage!
ROSEMARY MINT: Recommended for use as a scalp massage as it aids in stimulating hair growth. Also recommended for promoting clear and deep breathing. + Gives scalp that tingling feeling while it promotes nutrition for the hair follicles & overall hair growth.
-PINA COLADA (A sweet explosion of tropical fruit & rum.. notes of Pineapple, Orange, Apple, Melon, Coconut, Jasmine, & Vanilla)
LEMON GRASS: Scented with a combination of fresh Lemon Grass & pure Lemon oil. Light citrusy and clean.
*******If you DO NOT see the oil in the scent that you love simple type it in the notes section and we will make it to order for you! 😊
The natural botanical oils present in this unique combination of luxury oils mimic the skin's natural oil production, creating incredible anti-aging results, increasing skin's elasticity and reducing the visible signs of aging.
👉🏼When using as a FACIAL moisturizer we recommend using "UNSCENTED" ONLY especially on skin around the eye area. Use as a night time face, neck, & chest moisturizer to reduce visible signs of wrinkles and hydrate your skin deep within.
USES:
Use as a skin hydrator, scalp moisturizer, hair growth stimulator, beard smoother, massage oil, anti-aging facial night moisturizer (Unscented ONLY), eyelash growth serum (Unscented ONLY for eye areas), finger-nail/cuticle moisturizer, make-up remover, skin softener, and intimate lubricant (Unscented ONLY). USE FROM HEAD TO TOE!!!!